Our focus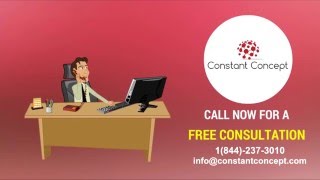 Global Reach
Constant Concept supports a worldwide client base. We develop fully integrated campaigns designed to suit local needs on a global scale. Our media buying team and marketing specialists are experts at delivering high quality, high volume lead growth.
MARKETING STRATEGIES
Utilizing digital and traditional marketing strategies including Search Engine Marketing, Search Engine Optimization, website design, e-mail response marketing, text message automation, social media management and TV direct response campaigns, Constant Concept can help any organization reach its full potential. Our click-to-call technology, custom tracking systems and digital tools allow you to achieve all your marketing goals.
TECHNOLOGY
Our team of digital media experts can develop customized mobile and email marketing campaigns targeted to your audience. Our custom tracking systems and digital tools ensure goals are reached and ROI is maximized.
Customization and Support
Every business is unique. We will work one-on-one with you to develop exclusive campaigns and tailored tracking systems that will suit your needs and meet your goals. We at Constant Concept understand that a growing business requires significant attention and we are prepared to help. Our team is dedicated to your campaign's success and will be available to you beyond the typical 9 to 5.
About Us
Constant Concept is a cutting edge lead generation firm offering unique digital and traditional marketing strategies. We deliver results and assure customer growth and development.

Located in Toronto, but globally focused, we deliver unique marketing strategies to domestic and international clients. Our team consists of Strategic Marketing, Digital Media and Web Development specialists. Our combined expertise guarantees the creation of marketing and advertising strategies that will grow your customer and lead base numbers.

Specialists in Direct Response marketing, Constant Concept will create the synergy between traditional TV and digital media buying. From website creation to search engine marketing and search engine optimization, to upsell optimizations; Constant Concept can deliver measurable marketing results needed to grow any product or service.
Growing Your Business
Whether you are looking to expand your business locally or globally, Constant Concept can create revolutionary marketing campaigns and strategies, tailored to your unique needs, which will grow your business beyond expectation.
Our expertise is your key to expanded customer reach. With our team of Media, Marketing, and Technical experts, you will receive the professional customer support necessary to track your growth and surpass your business objectives.
Our tools and strategies will allow you to simultaneously track the growth and ROI of your spend on multiple verticals including; online marketing, pay-per-call campaigns, mobile marketing, email marketing, social media marketing, radio, TV and more.